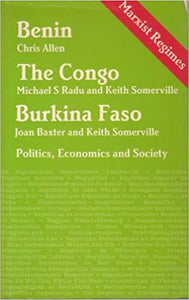 Benin, Congo and Burkina Faso : Politics, Economics and Society by Allen, Chris
R 25000

R 250.00
Tax included.
---
---
ISBN: 9780861874811
Hardback | 176 pages
Bloomsbury Publishing | 01 Jun 1989

This volume in the "Marxist Regimes" series examines three African Marxist states which were formerly French colonies: Benin is discussed by Chris Allen, The Congo by Michael Radu and Keith Somerville, and Burkina Faso by Joan Baxter and Keith Somerville. From Independence in 1960 until Major Kerekou's 1972 coup, Benin was the least stable state in Africa. Since then, Benin has been a stable Marxist regime. Part 1 investigates the sources of the earlier unrest, the process of stabilization and its relationship to the radicalization of Benin's politics. Its claims to socialism are assessed and its gradual renewed contact with Western and capitalist systems in the 1980s is noted. The Peoples' Republic of Congo is the oldest self-proclaimed Marxist-Leninist regime in sub-Saharan Africa. In Part 2, its political development is traced from Independence in 1960 to the Sassou-Ngouesso regime and the institutionalization of radicalism. The role of oil and the vulnerability of a one-commodity economy are covered, along with the Congo's part in the Angola-Zaire conflict and in Chad's civil war. Burkina Faso, formerly Upper Volta, also gained independence in 1960.
The subsequent coups and involvement of the military in government are covered here, alongside the economic development plans and efforts of "national recovery". The name Burkina Faso was adopted in 1984.