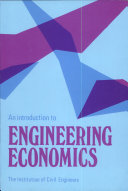 An Introduction to Engineering Economics by Institution Of Civil Engineers
R 15000

R 150.00
Tax included.
---
---
ISBN13 9780901948359
ICE Publishing, 31 December 1969
Paperback | 182 pages
This handbook has been produced to introduce the engineer to accepted economic principles of evaluation and to demonstrate the application of current techniques to the solution of problems of the kind which the engineer is likely to encounter during the course of his professional work. The preparation of an economic evaluation of a project as a basis for investment decision is of increasing importance. The basic principles of such evaluations are outlined in the chapters but those who require a more detailed exposition of the subject should refer to some of the works listed in the bibliography.