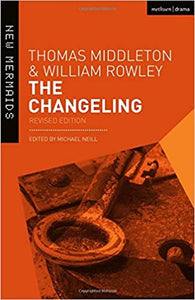 The Changeling by Middleton, T
R 24000

R 240.00
Tax included.
---
---
ISBN 9781474290272
Publisher: Methuen 2019
138 pages
Soft cover
With these chillingly offhand words, Beatrice-Joanna, the spoilt daughter of a powerful nobleman, plots to get rid of the family servant who has crossed her once too often.
The Changeling
's vivid tale of sexual appetite, repulsion, betrayal and lunacy remains one of the most compelling tragedies of the 17th century. Exposing the vexed relationship between servants and masters, setting notions of `change' against the revelation of psychological 'secrets' as ways of explaining human behaviour, and exploring the idea of love as a `tame madness', the play reveals the terrifying consequences of ungoverned sexual appetite and betrayal. Featuring the full and modernized play text, this revised edition includes incisive commentary notes which explain the nuances of the play's vibrant, colloquial language and demonstrate its sly delight in the characters' conscious and unconscious wordplay. Michael Neill's illuminating introduction provides a firm grounding in the play's socio-political context, demonstrates how careful close-reading can expand your enjoyment of the play, explains the play's violent linkage of comic and tragic plots and gives theatrical life to the text via a discussion of its stage history, with a particular emphasis on the most interesting recent productions.