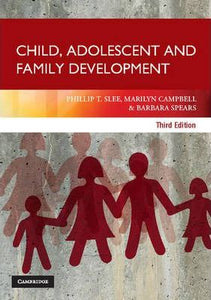 Child, Adolescent and Family Development by Slee, Phillip T.
R 50000

R 500.00
Tax included.
---
---
ISBN: 9781107402164
Cambridge University Press, 01 January 2012
Paperback, 625 pages
The third edition of Child, Adolescent and Family Development provides a comprehensive, readable study of human development from conception to adulthood. It explores the foundations of modern developmental thought, incorporating the latest in international research set within a cultural and historical context. Richly illustrated and enhanced by a range of practical teaching resources, this clear and engaging text is intended to reach students across a range of teaching, psychology, social science and health science disciplines. By employing a thematic approach within the chronologically ordered chapters, this text offers a systematic and intuitive structure for both learning and teaching. This new edition features a set of fully updated case studies that consider current trends and issues in developmental theory and practice, as well as end-of-chapter sections that address important stages in the family life cycle.