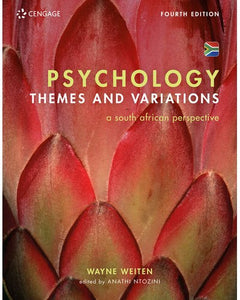 Psychology: Themes & Variations by Weiten, W
R 82000

R 820.00
Tax included.
---
---
ISBN 9781473780323
4th South African Edition
Publisher: Cengage 2022
Soft cover
Psychology Themes and Variations continues to offer a superb thematic organisation together with practical applications and South African examples that help students see beyond research to big-picture concepts. The text surveys psychology's broad range of content with three aims: to illuminate the process of research and its relationship to application, to show both the unity and diversity of psychology's subject matter, and to help students master the basic concepts and principles of psychology .