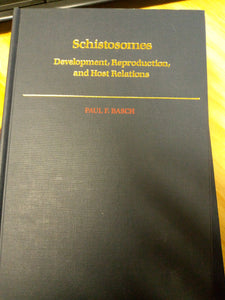 Schistosomes : Development, Reproduction and Host Relations by Basch, Paul F.
R 40000

R 400.00

Save R 597.56
Tax included.
---
---
ISBN: 9780195058079
Oxford University Press Inc | 28 November 1991
Hardback | 257 pages 
This work provides a comprehensive review of the biology of the parasitic flatworm, schistosoma, which is responsible for one of the world's most pervasive infectious diseases, schistisomiasis. The unusual characteristics of the organism, and the immediacy of its effect on human health, have combined to bring the schistosomes under considerable scrutiny in the field of parasitology This book concentrates on development and reproduction, since they are key to the parasite's existence and are particularly important because the disease in humans is induced by the worm's eggs rather than the organisms themselves. The book seeks to aid those investigators who wish to apply advanced techniques to schistosomes, but who lack familiarity with their fundamental biology. It draws together findings on the main features of schistosome biology, pointing out areas of controversy and special significance, and topics in need of further work and should be a valuable aid to all those treating and studying the disease, including parasitologists, immunologists, molecular biologists and public health specialists.