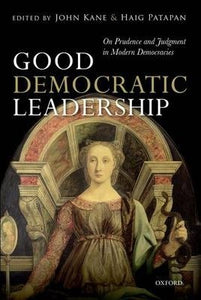 Good Democratic Leadership : On Prudence and Judgment in Modern Democracies by Kane, John
R 50000

R 500.00
Tax included.
---
---
ISBN: 9780199683840
Oxford University Press
17 September 2014
Hardback | 260 pages
Description
Good Democratic Leadership: On Prudence and Judgment in Modern Democracies explores whether, in the current atmosphere of international economic and political tension, and more generally, democracies foster and support effective political judgment and good leadership. In one sense, with their ideals of transparent government and extensive deliberation, democracies might appear to promote such good leadership and sound decision-making. Yet, in another sense,
democratic leaders continue to face a number of challenges, including the sometimes cumbersome institutional limits placed on their discretion, the need for balance between national interest, popular sentiment and universal values as well as the problem of disproportionate influence of commercial interests in
the management of the economy. In analysing various aspects of democratic leadership, judgement and decision-making from a variety of theoretical and practical perspectives, all the contributors to this book address this question of the extent to which democracies support good judgment and thereby the possibility of good leadership in democracies.