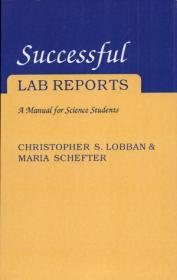 Successful Lab Reports by Lobban, Christopher S.
R 15000

R 150.00
Tax included.
---
---
ISBN: 9780521407410
Cambridge University Press | 01 January 1992
Paperback | 106 pages
Science students are expected to produce lab reports, but are rarely adequately instructed on how to write them. Aimed at undergraduate students, Successful Lab Reports bridges the gap between the many books about writing term papers and the advanced books about writing papers for publication in scientific journals, neither of which gives much information on writing science lab reports. The first part guides students through the structure as they write a first draft. The second part shows how to revise the report and polish science writing skills as the student continues to write science lab reports.