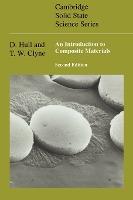 An Introduction to Composite Materials by Hull, D.
R 25000

R 250.00
Tax included.
---
---
ISBN: 9780521388559
CAMBRIDGE UNIVERSITY PRESS, 13 Aug 1996
Paperback. 344 pages
This edition has been greatly enlarged and updated to provide both scientists and engineers with a clear and comprehensive understanding of composite materials. In describing both theoretical and practical aspects of their production, properties and usage, the book crosses the borders of many disciplines. Topics covered include: fibres, matrices, laminates and interfaces; elastic deformation, stress and strain, strength, fatigue crack propagation and creep resistance; toughness and thermal properties; fatigue and deterioration under environmental conditions; fabrication and applications. Coverage has been increased to include polymeric, metallic and ceramic matrices and reinforcement in the form of long fibres, short fibres and particles. Designed primarily as a teaching text for final-year undergraduates in materials science and engineering, this book will also interest undergraduates and postgraduates in chemistry, physics, and mechanical engineering. In addition, it will be an excellent source book for academic and technological researchers on materials.