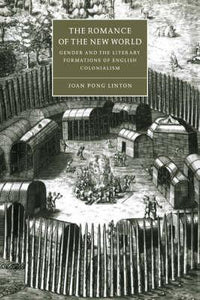 The Romance of the New World: Gender and the Literary Formations of English Colonialism by Linton, Joan Pong
R 40000

R 400.00
Tax included.
---
---
ISBN: 9780521594578
Cambridge University Press | 14 December 2006
Paperback | 284 pages 
This book studies the lively interplay between popular romances and colonial narratives during a crucial period when the values of a redefined patriarchy converged with the motives of an expansionist economy. Joan Pong Linton argues that the emergent romance figure of the husband (subsuming the roles of soldier and merchant) embodies the ideal of productive masculinity with which Englishmen defined their identity in America, justifying their activities of piracy, trade and settlement. At the same time, colonial narratives, in putting this masculinity to the test, often contradict and raise doubts about the ideal, and these doubts prompt individual romances to a self-conscious reflection on English cultural assumptions and colonial motives. Hence colonial experience reveals not just the 'romance of empire' but also the impact of the New World on English identity.