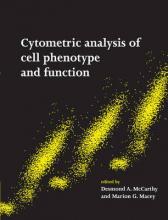 Cytometric Analysis of Cell Phenotype and Function by McCarthy, Desmond A.
R 40000

R 400.00

Save R 938.72
Tax included.
---
---
ISBN: 9780521660297
Cambridge University Press | 01 January 2002
Hardback | 430 pages 
Flow cytometry and laser scanning cytometry are increasingly used in clinical and research settings, following improvements in instrument design and computing power and the increased availability of fluorescent agents. This book provides a comprehensive introduction to the theory and clinical applications of these techniques in the assessment of cell phenotype and function. With an emphasis on clinical relevance, the book presents the principles and potential of cytometry in the analysis of phenomena including cell-mediated cytotoxicity, metabolic burst, phagocytosis, cell-cell aggregation, receptor shedding and apoptosis. Guidance is given on data interpretation, quality control procedures, pitfalls and problems. All chapters contain detailed protocols from leading authorities in the field with extensive practical experience.