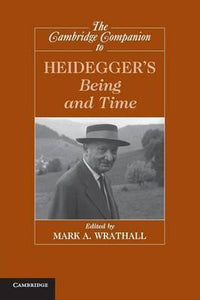 The Cambridge Companion to Heidegger's Being and Time by Wrathall, Mark A.
R 40000

R 400.00
Tax included.
---
---
ISBN: 9780521720564
Cambridge University Press | 27 November 2013
Paperback | 448 pages
The Cambridge Companion to Heidegger's 'Being and Time' contains seventeen chapters by leading scholars of Heidegger. It is a useful reference work for beginning students, but also explores the central themes of Being and Time with a depth that will be of interest to scholars. The Companion begins with a section-by-section overview of Being and Time and a chapter reviewing the genesis of this seminal work. The final chapter situates Being and Time in the context of Heidegger's later work. The remaining chapters examine the core issues of Being and Time, including the question of being, the phenomenology of space, the nature of human being (our relation to others, the importance of moods, the nature of human understanding, language), Heidegger's views on idealism and realism and his position on skepticism and truth, Heidegger's account of authenticity (with a focus on his views on freedom, being toward death, and resoluteness) and the nature of temporality and human historicality.