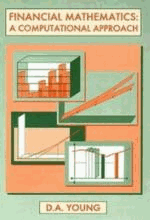 Financial Mathematics : A Computational Approach by Young, D.A.
R 8000

R 80.00

Save R 140
Tax included.
---
---
ISBN: 9780702129599
Juta Academic | 21 January 2015
Paperback | 120 pages 
Financial calculators have become commonplace in most courses on financial mathematics and this has allowed a greater emphasis on important concepts, rather than on "number-crunching". However, as this book points out, knowing which buttons to push without understanding why they have to be pushed is not of much use. This text addresses this point and, besides indicating where a financial calculator can be effectively used, it also points out how (in a non-technical sense) the calculator is able to solve equations numerically when algebraic methods fail.