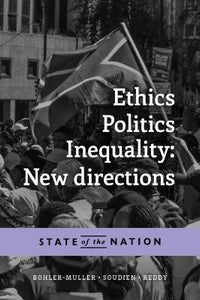 Ethics, Politics, Inequality: New Directions by Bohler-muller, Narnia
R 35000

R 350.00
Tax included.
---
---
ISBN: 9780796925961
HSRC Press | 30 July 2021
Paperback | 416 pages 
Multi-layered inequalities and a sense of insecurity has long been the hallmark of South African life. Recently, however, the uncertainties of Covid-19 have led to greater shared experiences of vulnerability among South Africans. This volume of State of the Nation offers perspectives that may help us navigate our way through the 'new normal' in which we find ourselves. Foremost among the unavoidable political and socioeconomic interventions that will be required are interventions based on an ethics of care. Care as an essential attribute must be inserted into all of the diverse contexts that structure needs, desires and relations of power. An ethics of care requires us to reconsider relations of domination, oppression, injustice, inequality, or paternalism within the state. In a democratic post-apartheid state that confirms human connectedness, bodies matter and this knowledge must be driven by active citizenship. We are all caught up in webs of power that require of us, as individuals and as communities, the will and understanding to combat and counter poverty and inequality and thus to improve the state of the nation. The effects of poverty and inequality are as insidious as Covid-19 and render the most vulnerable even more powerless in the face of this and similar ravages. Now, more than ever, we need to prioritise an ethics of care.