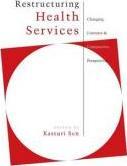 Restructuring Health Services : Changing Contexts and Comparative Perspectives by Sen, Kasturi
R 15000

R 150.00

Save R 646.03
Tax included.
---
---
ISBN: 9781842772898
Bloomsbury Publishing PLC | 01 August 2003
Paperback | 272 pages 
Health service delivery is being restructured in both industrialised and developing countries. Public health scholars and policy makers in this volume show how this process is accelerating as a result of diverse factors including fiscal pressure, privatisation of infrastructure, and the impending renegotiation of the WTO General Agreement on Trade in Services (GATS).
The key policy issues that arise concern the implications of these changes for access and equity in public health provision.
The volume reviews the rapidly changing context in which financing health care and its relationship to globalization and privatisation are taking place. It examines the specific mechanisms and institutional processes involved. And it explores various contrasting experiences, including HMOs in the USA, Britain's NHS, social health insurance in Western Europe, developing countries, and Cuba.