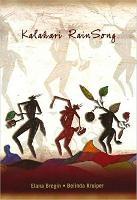 Kalahari Rainsong by Bregin, Elana
R 15000

R 150.00
Tax included.
---
---
ISBN: 9781869140526
University of KwaZulu-Natal Press | 30 November 2004
Paperback | 168 pages
Description
This moving and unusual story brings together the voices of two South African women, different in background, connected in spirit. Weaving together a range of narrative styles and strands - mythic, political, and anecdotal - ""Kalahari Rainsong"" reflects the complex reality of the Khomani Bushman community that Belinda is a part of. Through the telling of her own personal journey, Belinda Kruiper evokes the traces of our divided past in the continuing struggles for survival of the Bushmen people of today.