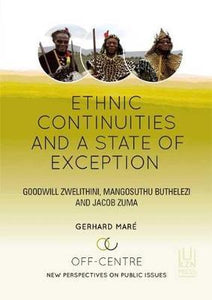 Ethnic Continuities and A State of Exception: Volume 3 : Goodwill Zwelithini, Mangosuthu Buthelezi and Jacob Zuma by Mar�, Gerhard
R 19500

R 195.00
Tax included.
---
---
ISBN: 9781869144562
University Of KwaZulu-Natal Press | 30 June 2021
Paperback | 128 pages
As we enter the third decade of the twenty-first century, South Africa continues to function under the oppressive burden - felt directly as such by all but the elite - of three continuities from apartheid: race thinking, capitalism and the politics of tradition. It is the last of this triad that is the focus of this book. Yet, as Gerhard Mare argues, continuities in the politics of tradition cannot be understood as separable from the other two, nor from the intimate metapolitics of patriarchy.
Building on his previous research into how apartheid templates of ethnic separatism, and its popular mobilisations, played out in calamitous violence in Natal and Zululand, Mare now takes the story into post-1994 South Africa. He sets as his focus three powerful men - Goodwill Zwelithini, Mangosuthu Buthelezi and Jacob Zuma - to illustrate how, from different social locations, each has relied on claims to Zulu tradition to occupy powerful and financially rewarding positions.
This book alerts readers to the dangers of tradition as a formal, structured politics, which enriches a narrowly elite minority while overriding democratic rights, effecting a 'state of exception' for the governance of millions who are rendered as 'subjects'. At the same time, tradition in this form leaves intact another divide, at a time when health disasters, inequality and climate catastrophe can be addressed only through shared and collective human engagement.