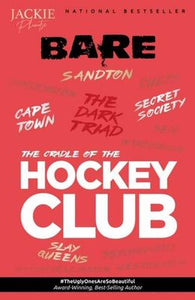 Bare 2: The Cradle of the Hockey Club by Phamotse, J
R 43500

R 435.00
Tax included.
---
---
ISBN 9780620829274
Publisher: Book Lingo 2019
Soft Cover
410 pages
Bare: The Blessers Game has unlocked a door leading to Bare: The Cradle of the Hockey Club and the biggest secret society in Africa.
Sandton, the hub of Africa's economic power, sex mavericks and high-class slay queens, the place where dreams are made. But sometimes it proves not to be the city of freedom, while the city lights glitter, many are roped into the dark underground world of the rich and powerful. This is a season when men hold the key to every door and the weak will do anything to be part of the elite circle.
Treasure desires nothing more than pure love from her Sugar Daddy but she is starting to see that he has deep-rooted, dangerous fetishes that go beyond greed and lust. She longs for a better life yet isn't sure how she will ever find that. The sacrifices placed in the hands of her tormentor are deadly. Slowly, day by day, she walks into the shadows and claws of death. Her love for materialism will alter the course of her life dangerously. But with her naive softness comes overwhelming feelings of unworthiness, fear and blood spills. She is catapulted back into the darkness, human traffic and organ sales.
Terrified by the reality of her own naivete, Treasure becomes entwined and trapped in a world of darkness and a terrible kind of glamour. Will she ever see the light?