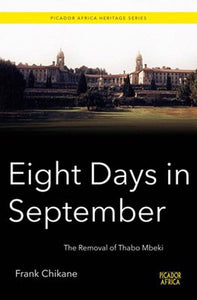 Eight Days in September: The Removal of Thabo Mbeki by Chikane, F.
R 25000

R 250.00
Tax included.
---
---
ISBN: 9781770105621
Publisher: Picador Africa 2012
Soft cover
271 pages
Eight Days in September is a riveting, behind-the-scenes account of the turbulent eight-day period in September 2008 that led to the removal of Thabo Mbeki as president of South Africa. As secretary of the cabinet and head (director-general) of the presidency at the time, Frank Chikane was directly responsible for managing the transition from Mbeki to Kgalema Motlanthe, and then on to Jacob Zuma, and was one of only a few who had a front-row seat to the unfolding drama. Eight Days in September builds substantially on the so-called Chikane Files, a series of controversial articles Chikane published with Independent Newspapers in July 2010, to provide an insider's perspective on this key period in South Africa's recent history, and to explore Thabo Mbeki's legacy.