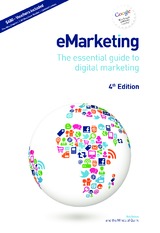 eMarketing by Rob Stokes
R 30000

R 300.00
Tax included.
---
---
ISBN: 9780987034649
Porcupine Press Trading, 30 Nov 2011
Soft Cover, 580 pages
Review:"This book is a fantastic guide to online marketing, and the Internet in general.As a marketing practitioner, I've been finding my way own way through the online world for some time now but have always wondered if what I was doing was 'correct' and it would take me ages to find out what I needed to know through researching online articles, blogs, etc.I found this book to be fairly concise and focused. The references to other online articles that it includes are vast and can they be very absorbing. The best part about this is that it is written by someone that clearly has vast experience in the field and, unlike with some online articles, you get the feeling that what is advised is really 'best practice'.I'd recommend this book for anyone interested in digital marketing". Adam Butchart, Digital Marketing student Blurb:We love the Internet. We love digital and the connected world that we live in. We have spent the last six months gleaning every bit of knowledge, skill and opinion from the creative minds at Quirk. The result is a textbook borne out of more than 12 years of practical experience in the world of digital. For the reader, this translates into applicable insight into marketing in an ever-changing space.This book brings you: â¢22 Chaptersâ¢Updated content throughoutâ¢All new case studiesâ¢$480 of vouchers* Used by brands, creative agencies and students across the world, Quirk's eMarketing textbook sets the standard for all things digital."Since we published the last edition of the book, it has become increasingly obvious that the various elements of digital marketing work hand in hand, not just benefiting each other through coordination, but actually relying on each other for success." - Rob Stokes (Founder and Group CEO, Quirk)In order to reflect this change, we have restructured the book to mirror our four key agency disciplines: Think, Create, Engage and Optimise. This simplified way of thinking about the digital space makes it easier for students and professionals to benefit from the insights shared.