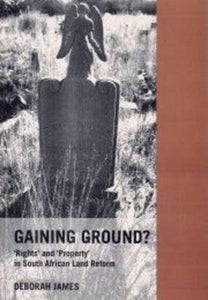 Gaining Ground? : Rights and Property in South African Land Reform by Deborah James
R 26000

R 260.00
Tax included.
---
---
ISBN: 9781868144433
Wits University Press, 31 December 2006
Paperback | 304 pages
Gaining ground? Rights and property in South African land reform examines how land reform policy and practice in post-apartheid South Africa have been produced and contested. Set in the province of Mpumalanga, the title gives an ethnographic account of local initiatives and conflicts, showing how the poorest sectors of the landless have defied the South African state's attempts to privatize land holdings and create a new class of African farmers. They insist that the 'rights-based' rather than the 'market-driven' version of land reform should prevail and that land restitution was intended to benefit all Africans. However, their attempts to gain land access often backfire. Despite state assurances that land reform would benefit all, illegal land selling and 'brokering' are pervasive, representing one of the only feasible routes to land access by the poor. This title shows how human rights lawyers, NGOs and the state, in interaction with local communities, have tried to square these symbolic and economic claims on land. It will be of use to academics in the fields of law, anthropology and development studies.