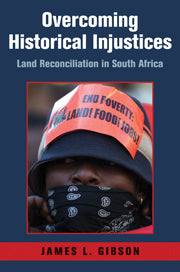 Overcoming Historical Justrices - Land reconciliation in South Africa by James L. Gibson
R 30000

R 300.00
Tax included.
---
---
ISBN: 9780521517881
Cambridge University Press, 2009
Hard cover, 306 pages
Overcoming Historical Injustices is the last entry in Gibson's 'overcoming trilogy' on South Africa's transformation from apartheid to democracy. Focusing on the issue of historical land dispossessions - the taking of African land under colonialism and apartheid - this book investigates the judgements South Africans make about the fairness of their country's past. Should, for instance, land seized under apartheid be returned today to its rightful owner? Gibson's research zeroes in on group identities and attachments as the thread that connects people to the past. Even when individuals have experienced no direct harm in the past, they care about the fairness of the treatment of their group to the extent that they identify with that group. Gibson's analysis shows that land issues in contemporary South Africa are salient, volatile, and enshrouded in symbols and, most important, that interracial differences in understandings of the past and preferences for the future are profound.