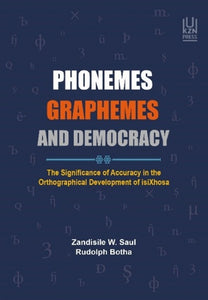 Phonemes, Graphemes & Democracy by Saul, Z & Botha, R
R 22500

R 225.00
Tax included.
---
---
ISBN 9781869144388
Publisher: UKZN Press 2020
190 pages
Soft cover
The period 1823 to the present was an important phase in the standardisation of isiXhosa orthography. The early pioneers of a written form of isiXhosa experienced significant challenges in reducing this African language to writing, since there was no reference material other than that designed for the European languages. Over the years, the development of isiXhosa orthography has progressed considerably. However, various inconsistencies and anomalies remain that require the attention of African language specialists.
This book provides comprehensive guidelines on important aspects of isiXhosa orthography such as word division, spelling and capitalisation. However, the authors' primary focus has been those challenging areas of standardisation which have not yet been attended to. This work will make an important contribution to the development of isiXhosa into a fully functional medium of teaching and learning in Higher Education, and facilitate the enhancement of its status as one of South Africa's official languages.