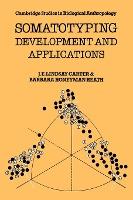 Somatotyping : Development and Applications by J. E. Lindsay Carter, Barbara Honeyman Heath
R 12000

R 120.00
Tax included.
---
---
ISBN: 9780521359511
Cambridge University Press, 10 November 2005
Paperback | 520 pages
Somatotyping is a method of description and assessment of the body on three shape and composition scales: endomorphy (relative fatness), mesomorphy (relative musculoskeletal robustness), and ectomorphy (relative linearity). This book (the first major account of the field for thirty years) presents a comprehensive history of somatotyping, beginning with W. J. Sheldon's introduction of the method in 1940. The controversies regarding the validity of Sheldon's method are described, as are the various attempts to modify the technique, particularly the Heath-Carter method, which has come into widespread use. The book reviews present knowledge of somatotypes around the world, how they change with growth, ageing and exercise, and the contributions of genetics and environment to the rating. Also reviewed are the relationships between somatotypes and sport, physical performance, health and behaviour. Students and research workers in human biology, physical and biological anthropology and physical education will all find valuable information in this book.