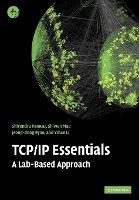 TCP/IP Essentials : A Lab-Based Approach by Shivendra S. Panwar et.al
R 17500

R 175.00
Tax included.
---
---
ISBN: 9780521601245
Cambridge University Press, 30 July 2007
Paperback | 288 pages
The TCP/IP family of protocols have become the de facto standard in the world of networking, are found in virtually all computer communication systems, and form the basis of today's Internet. TCP/IP Essentials is a hands-on guide to TCP/IP technologies, and shows how the protocols are implemented in practice. The book contains a series of extensively tested laboratory experiments that span the various elements of protocol definition and behavior. Topics covered include bridges, routers, LANs, static and dynamic routing, multicast and realtime service, and network management and security. The experiments are described in a Linux environment, with parallel notes on Solaris implementation. The book includes many homework exercises, and supplementary material for instructors is available. The book is aimed at students of electrical and computer engineering and students of computer science taking courses in networking. It is also an ideal guide for engineers studying for networking certifications.