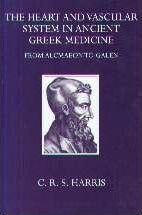 The Heart and the Vascular System in Ancient Greek Medicine : From Alcmaeon to Galen by Harris, C.R.
R 30000

R 300.00
Tax included.
---
---
ISBN: 9780198581352
Sandpiper Books | 08 February 1972
Hardback | 486 pages
Description: 
The history of Greek Medicine is structured around an investigation of how the ancient Greeks, in spite of their accurate knowledge of anatomy, failed to discover the circulation of the blood. Harris traces the development of the Greeks'ideas about the physiological function of the heart from the earliest writings (in the 5th century BC) by Alcmaeon of Croton, a pupil of Pythagoras who placed the seat of consciousness in the brain and, in his theory pf unbalance of opposite qualities, offered the first rational explanation of disease, to the sphygmology of Galen (AD 129-?199/216). The work is conceived as a source book for both classical scholars and historians of medicine and includes extensive quotation and extracts from Greek and Latin sources, with passages translated on in precis in the body of the text and presented in the original languages and with full references in footnotes.