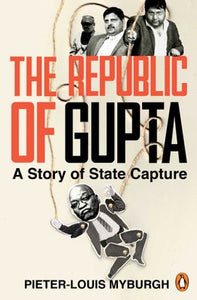 The Republic of Gupta: A Story of State Capture by Myburgh, P-|L
R 26000

R 260.00
Tax included.
---
---
ISBN: 9781776090891
Publisher: Penguin 2017
Soft cover
306 pages
The Guptas, arguably South Africa's most infamous family, have dominated news headlines for many years. But the landing of a commercial airliner packed with wedding guests at Air Force Base Waterkloof in 2013 sparked the most severe onslaught of public outrage the politically connected family had endured up to that fateful day. Since then, they have become embroiled in allegations of state capture, of dishing out cabinet posts to officials who would do their bidding, and of benefiting from lucrative state contracts and dubious loans.
The Republic Of Gupta examines the various controversies surrounding the family and explores the path that took the brothers Ajay, Atul and Rajesh Gupta from an obscure town in India to the inner circle of South African president Jacob Zuma.
This book investigates:
What were the Guptas up to during Thabo Mbeki's tenure as president?
What role did they play in Zuma's dramatic rise to power?
How do they get senior government officials to do their bidding?
What is it like being in the family's employ?
What does state capture really involve?
Unpacking these and other questions, Pieter-Louis Myburgh delves deeper than ever before into the Guptas' business dealings and their links to prominent South African politicians, and explains how one family managed to transform an entire country into The Republic Of Gupta.